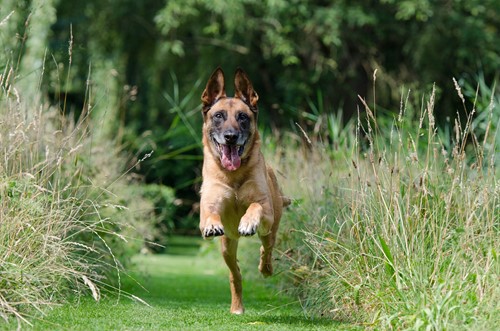 Image by Katrin B. from Pixabay

As you get ready to show your home, you likely already set up a place for your pets to go during that time. But did you remember to set aside some time to wear out all their excess energy before they go? If not, then this is a good time to figure out how you will help them get the wiggles out well before starting the home showing process. Here's four ideas to help you get started.
Play a Few Games of Fetch
Although it's a basic game of throw and retrieve, pets love to play fetch with their owners. You don't even need a lot of space to get the game started. Don't have a big yard to run in? Just play a rapid-fire version of fetch in your living room.
Wherever you are, just grab their favorite toy and give it a toss to begin the game. Then, call them back to you once they have it and give them a reward. Repeat until it wears everyone out.
If your pet is not getting the picture, roll out the high value treats to make the game much more enticing. Even cats can learn how to play fetch if they are keen on the treats you offer.
Challenge Them to a Chase
Much like your pet, you undoubtedly have tons of nervous energy to expend before your home showing. If that's the case, then both you and your pet could benefit from a rousing game of chase.
All you have to do is get your pet's attention, crouch down ever so slightly, and then bolt in the opposite direction. As they come running full bore to catch you, it'll be tough to avoid getting a serious case of the giggles. By the end, you'll be in a great mood and ready for whatever the day brings—and so will they.
Take a Long Hike Together
Venturing out into the great outdoors is another great way to exercise your pet while improving your own outlook. As you both spend time in nature, the stress will melt away, leaving genuine feelings of wellbeing in their place.
No matter where you live, you likely have tons of trails in your midst. To find them, look at the nearby state and national parks to see which trailheads are closest. Just remember to verify that pets are allowed on the trail before you leave.
Break Out the Puzzle Games
Fetch, chase games and hikes are physically exhausting, but the reason they wear out your pet so well is that they also make them think. So, if you don't have the time and space for physical activities, you can get a similar effect by breaking out the puzzle games.
Purpose-built puzzle games for pets challenge them to figure out how to flip switches, pull levers and open doors to get the treat inside. Pets tend to get plenty tired from working through the puzzles a few times since it has them using their brains in a whole new way. Just be sure to switch out the puzzles often to keep them feeling challenged.
By the end of your activities, your pets will be ready to go to the doggy daycare or pet sitter while you show your house. You can then focus on finding the perfect buyer for your home while your pets get in a good rest.